FALL RIVER PHOTO CD--TEXTILE MILLS, MILL OPERATIVES, MILL OWNERS,
1911 COTTON CENENNIAL
The following digitized images are made possible through a gift given by Mr. and Mrs. Joseph E. Rogers and Mr. William A. Hendrickson in honor of the 90th birthday of Mrs. Ruth Wilcox Hendrickson, Class of 1925. Five hundred slides from the Fall River History Materials Project were digitized on five cd disks. Approximately 15-20 images from each disk have been placed on this server. As we acquire more space on this account, more images will be mounted at a later date.
Sixteen of the one hundred images on this photo cd disk can be viewed below in Netscape.
1. Marshall Hat Factory



2. Border City Mills



3. Seaconnet Mills
4. Mouth of the Quequechan
5. Narragansett Mills
6. Border City and Arkwright Mills
7. General View of Mill District
8. Barnard Mill
9. American Linen Company
10. Durfee Mills
11. Globe Yarn and Conanicut Mills
12. Sanford Spinning Company
13. Arkwright and Barnaby Mills
14. View of the Bay and Mills
15. Wampanoag Mills
16. Borden Mill
17. Workers in a Fall River Cotton Mill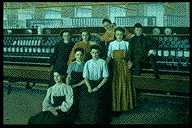 18. Workers in a Fall River Cotton Mill


19. Speeders and Ring Spinning in a Fall River Cotton Mill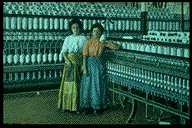 20. Machine Web Drawing Room in a Fall River Cotton Mill
21. Operating Combers in a Fall River Cotton Mill
22. Warper Room in a Fall River Cotton Mill
23. Boiler Room in a Fall River Cotton Mill


24. Workers in a Fall River Cotton Mill
25. Mule Spinning Room in a Fall River Cotton Mill
26. Noon Hour in a Speeder Room in a Fall River Cotton Mill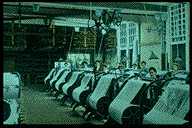 27. Slasher Room of a Fall River Cotton Mill
28. Weave Room of a Fall River Cotton Mill
29. Machine Carpenter and Repair Shop in a Fall River Cotton Mill


30. Weave Room in a Fall River Cotton Mill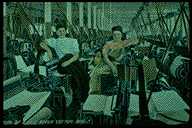 31. Noon Hour in a Weave Room of a Fall River Cotton Mill
32. Fall River Iron Works Mills Fall River, MA
33. Merchants Manufacturing Company Fall River, MA
34. Montaup Mill Fall River, MA
35. Merchants Mill Fall River, MA
36. Plymouth Avenue Showing Granite Mill Fall River, MA
37. Horse Show, North Park 1911 Fall River, MA
38. Parade-Cotton Centennial 1911Fall River, MA
39. Parade- Cotton Centennial 1911 Fall River, MA
40. Parade- Cotton Centennial 1911Fall River, MA
41. Parade- Cotton Centennial 1911 Fall River, MA
42. Parade- Cotton Centennial 1911 Fall River, MA
43. Parade- Cotton Centennial 1911 Fall River, MA
44. Victory Arch Cotton Centennial 1911 Fall River, MA
45. Nathaniel J. Borden Early Textile Leader
46. James Buffinton, Textile Leader
47. Oliver Chace, Textile Leader
48. Jesse Eddy, Textile Leader
49. Nathaniel Durfee, Textile Leader
50. David Anthony, Textile Leader
51. Richard Borden, Textile Leader
52. Jeffrey Borden, Textile Leader
53. William C. Davol, Textile Leader
54. Steven Davol, Textile Leader
55. Border City Mills, Fall River, MA
56. Mechanics Mill, Fall River, MA
57. Mechanics Mill, Fall River, MA
58. Davol Mills, Fall River, MA
59. Fall River Bleachery, Fall River, MA
60. Staples Coal Company, Fall River, Ma
61. Bristol Steamer, Fall River, Ma
62. First Cotton Mill in Fall River 1811


63. First Cotton Mill in Fall River 1811


64. Chace Mill, Fall River, MA
65. American Print Works, Fall River, MA
66. American Print Works, Fall River, MA



67. American Print Works, Fall River, Ma
68. American Print Works, Fall River, MA
69. American Print Works, Fall River, MA
70. Granite Mill, Fall River, MA
71. Granite Mill and Merchants Mill, Fall River, MA
72. Granite Mill, Fall River, MA
73. General View of Mill District Fall River, MA
74. Border City Mills, Fall River, MA
75. Troy Mill, Fall River MA
76. Pocasset Mill, Fall River, MA
77. Pocasset Mill, Fall River, MA
78. Fall River Iron Works, Fall River, MA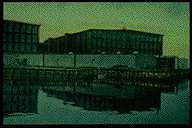 79. Fall River Iron Works, Fall River, MA
80. Fall River Iron Works, Fall River, MA
81. Kerr Thread Mill Certificate
82. Cotton Centennial 1811-1911 Poster
83. Postcard from Cotton Centennial Fall River, MA
84. Cotton Centennial Postcard Fall River, MA
85. Parade Route, Cotton Centennial Fall River, MA 1911
86. Parade Route, Cotton Centennial Fall River, MA 1911



87. Parade Route, Cotton Centennial
88. Parade Cotton Centennial
89. Parade, Cotton Centennial
90. Parade, Cotton Centennial



91. Parade, Cotton Centennial
92. Parade, Cotton Centennial
93. Parade, Cotton Centennial
94. Parade, Cotton Centennial
95. Parade, Cotton Centennial
96. Cotton Centennial Postcard Showing 3 city halls Fall River, MA 1911
97. Parade, Cotton Centennial, or Victory Parade after World War I
98. Postcard Cotton Centennial 1911
99. Oldest Mill in Fall River, 1911
100. Lighthouse in Fall River Harbor
101. President Taft's Visit to Fall River for Cotton Centennial 1911-President's Airplane at Sandy Beach


Return to List of Level 3-4 Reading Selections
Return to Inclusion Page
Return to Making the Keely Library Work for YOU
Return to Teacher Pages
Return to Critical Thinking
Return to Thinking Skills: Integrating Library Resources with Learning Objectives
Return to History Resources List
Jane Constant, Reference Librarian
Keeley Library, B.M.C.Durfee High School of Fall River
September, 1978 to June, 2001